My two sisters and I are standing on one side of the yellow table in our childhood house, where the family gathers for meals. There are cups and a teapot on the table. The babysitter is opposite, a young grown-up woman who is looking at us fixedly, while I am staring back at her in defiance. We three siblings begin to sing, a ditty from a fairy-tale. The three verses are appropriate and fill the space over the table, between us and the babysitter, with their threefold repetition and the progression of their theme.
I wake up.
"Who is the babysitter from the dream, dear oracle?"
CLOUDS, THUNDER, SPROUTING. ONE WEAVES WARP AND WEFT.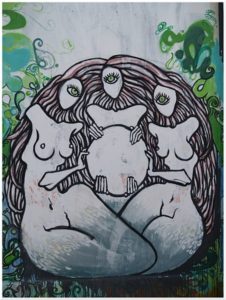 The Norns? The tree is there in the form of a wooden table, water for watering it in the form of, presumably, tea in the teapot. The three ladies are there. But what is the babysitter doing on the other side of the table?
WAITING, the oracle remarks. FOOD AND DRINK.
Ahh! I had expressed interest in contacting an ancestor some time ago. Then other events demanded my attention, and that work was assigned lower priority. But if all three of the sisters of fate and destiny show up in a dream, then it is time to turn my attention back to the matter.
Food and drink. An offering is left in the kitchen over night.
RELAX, the oracle advises. WITH MUSIC. If only I could remember that little song from the dream now!
---
I am halfway through a psychology article about the personality structure of a person who had gaps in her psyche. The gaps were regularly spaced, with slices of actual psychological entity alternating with empty ones. The subject of this study was a powerful woman, and her actions and decisions matched up perfectly with the missing portions of her psyche. I am particularly interested in understanding her motivations because she influences the lives of all people I know. Her office is not political or economic, but nevertheless invested with a lot of power. As I begin to grasp the full scale of this entire state of affairs, my understanding becomes less certain, some aspects fade from my awareness and the dream falls apart as I gain waking consciousness.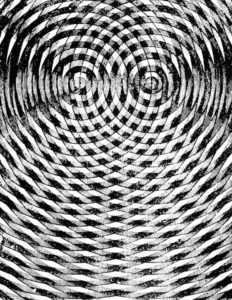 There is no need to consult the oracle. This was a dream experience of Sophia, the gnostic aeon who is, according to various myths, either Mother Wisdom or else responsible for foolishly bringing forth the misbegotten creator of our universe. Her mind might well be an interference pattern of wisdom and ignorance.
So when I wanted to contact an ancestor, I did not really think it would turn out to be the wise mother of ignorance, whose foolish asexual act of creation landed us all in the circumstances we now find ourselves in.
Someone less far down the line would have been totally satisfactory.