Set the Egyptian
The ancient Egyptian deity Set has an interesting biography. Early on, he played an important role, defending the solar deity against chaos, ruling the desert, and being married into the divine family. In later myths, he is portrayed in less favorable terms, as a brother-slayer, a trickster, in conflict with his family, a sexual predator, subject to the judgement of the gods. Not unlike the Norse deity Loki, he becomes pregnant and gives birth (to a golden disc). In his conflict with Horus, he both mutilates his opponent and is castrated. In historical terms, he becomes patron deity of the foreign Hyksos dynasty, associating him with foreigners once and for all. While this did not hurt his reputation initially, after Egypt was ruled by several foreign powers (Assyria, Persia, Greece), he was demonized. His cult persisted in ancient times regardless of all these setbacks, and there are some modern-time followers.
The Set Working
It was one of these modern-time devotees who led a ritual I attended, during which I had a brief vision of a hunched figure with large ears beckoning me to follow behind, through a boulder-strewn landscape of dry earth under a starry night sky – something straight out of some modernist poem. Nothing else became apparent during the ceremony, however.
Not long afterwards, I found my thoughts circling around this short scrap of a vision. I queried two trusted divination systems about Set's plans, and received "The Earth", and "All the Dead": obvious references to the long-disused graveyard in the vicinity. In Egyptian mythology, Set was the Lord of the Black Soil (i.e. the desert, where the dead live), so this was a fitting place for a follow-up meeting with him.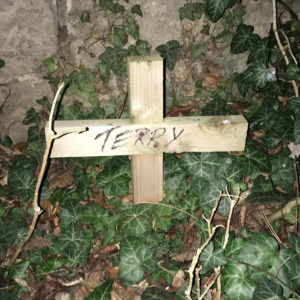 When I arrived at the former cemetery, which nowadays is a park with some tall trees in it, it was late night. I had brought some beer as an offering – after all, beer was an Egyptian invention – and poured a generous libation, after announcing my presence to Set. There was a niche in the old cemetery wall, with steps leading up to it, which I sat on, sharing my beer with the old Egyptian deity, and expecting to learn what this special invitation was all about.
"Look out through the slit in the wall", was the message I got. "What do you see?" I reported on the occasional passing car, the nighttime view of the town, light and shadows, and so on, to the god's satisfaction. When the beer was used up, I felt more offerings were in order, and I fetched some fruit and a hot, sweet cup of coffee to brighten up the night, and maybe receive some more concrete results from the meeting. Set was still there when I returned, and graciously accepted some sugar-laden beverage. Then, on an impulse, and because no more divine favors seemed to be forthcoming, I tossed a piece of banana out through the slit in the wall. Set lunged after it and I was alone again.
Insights Gained from the Set Working
Then some insights came pouring in, or rather, surfaced into my angry, slightly drunk consciousness.
Set is a mongrel mutt. Even the ancient representations are unclear as to what kind of animal stood model for his images. Egyptologists refer to a "Set animal", which could be anything from an Aardvark to a donkey or a jackal – or even a giraffe, judging from Set's rectangular ears.
Moreover, he is a street mutt, who will bum offerings off anyone he can. And he is successful! After over a millennium since the pagan temples were closed, he is still around, he even has a priesthood of acolytes who keep the offerings coming. A smart mutt! A trickster mutt. He will do the crazy wisdom teacher act, the guru act, for any favor he can get. You will be invited to the special secret cemetery to receive deep teachings, remember to bring beer!